We offer a wide variety of services from partial renovations, to sidewalks and slabs, to new building construction.  We can excavate and backfill footings, place rebar, and pour cast-in-place footings, slabs, and walls alike.

Our Co-President Peter M. D'Onofrio is a certified structural engineer and is readily available to assist our project managers with any discrepancies that may arise in the field.  We also have access to knowledgable experts in all types of forming systems: from basic hand-set pannels to complicated self-jacking gang forms for multi-level buildings.

Our materials are bought in bulk from reputable manufacturers, allowing us to keep our prices down and quality high.  We try our best to comply with LEED certification which means we use the most envirnmentally friendly resources available.  And because we manage the whole process from top to bottom, we ensure a quality result.  Call us for a free consultation and estimate at 1-610-889-0860.
Keystone Concrete Pumping

Better than the rest!

Our Fleet Includes:

32 Meter Concrete Pump

33 Meter Concrete Pump

37 Meter Concrete Pump

42 Meter Concrete Pump

For availablity call:

610-889-0860


P: 610-889-0860

F: 610-889-0861

P.M. D'ONOFRIO, INC.








610-889-0860


Concrete Contractors











Since 1982
Why Choose Us?

1. Customers come first.

2. We do what we say, when we say, at a high level of quality.

3. Your satisfaction is  guaranteed.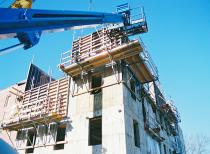 Power Rake and Laser Screed

Save time and money on your next slab pour by using our power rake and laser screed.

Rent them for the day only  $1,200.00

Comes with two operators.

Cut your labor force needed to place concrete in half!

To schedule call: 610-889-0860